TOGETHER
Vernon Proudly Supports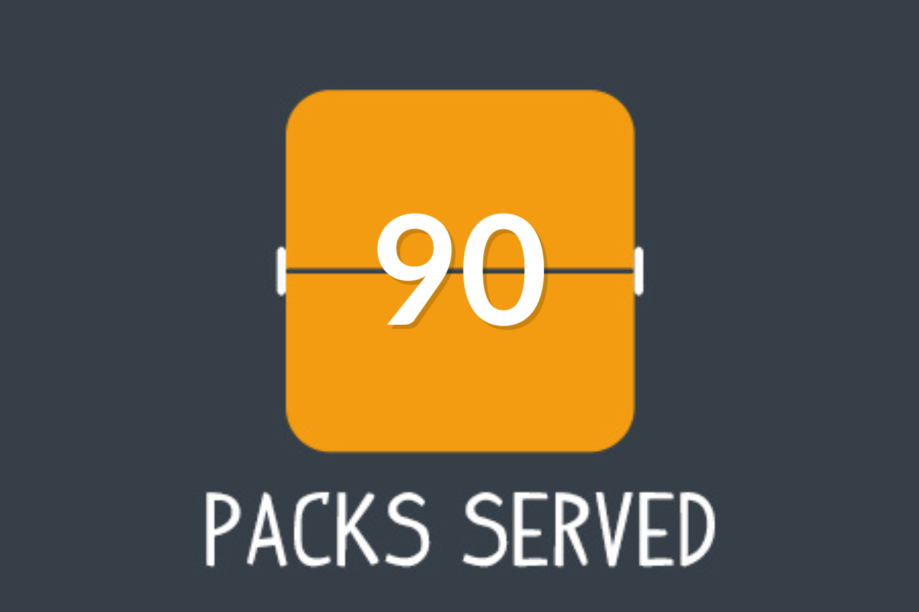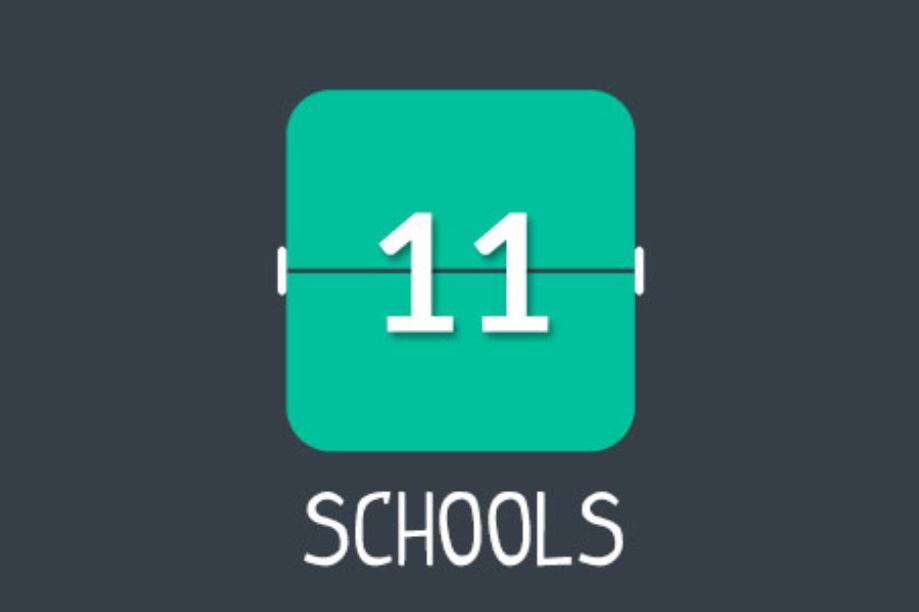 Why does the Starfish Pack Program Exist?
Approximately one in five children in BC live in poverty and often go more than a full day without eating a healthy meal.  The Starfish Backpack Program is working to address food insecurity, one child at a time, and you can help.
Food insecurity occurs when there is a lack of consistent access to enough food for an active, healthy life.  This insecurity is often due to financial constraints that families across Canada are facing.  Greater Vernon area families also experience this insecurity. About a third of those who access food banks in Vernon are under the age of 18.
The Starfish Pack Program provides a knapsack of food each week throughout the school year to school children who experience food insecurity. Each pack provides food for two breakfasts, two lunches and two dinners and is supplemented by fresh fruit and vegetables, along with snacks.
"Eating a balanced, nutritious diet plays a key role in ensuring students come to school ready to learn.  We want our students to eat well and learn well.  Thanks to our partnership with Kalamalka Starfish Society, we will continue to provide health learning opportunities to all our students."

Dr. Christine Perkins, SD 22 Superintendent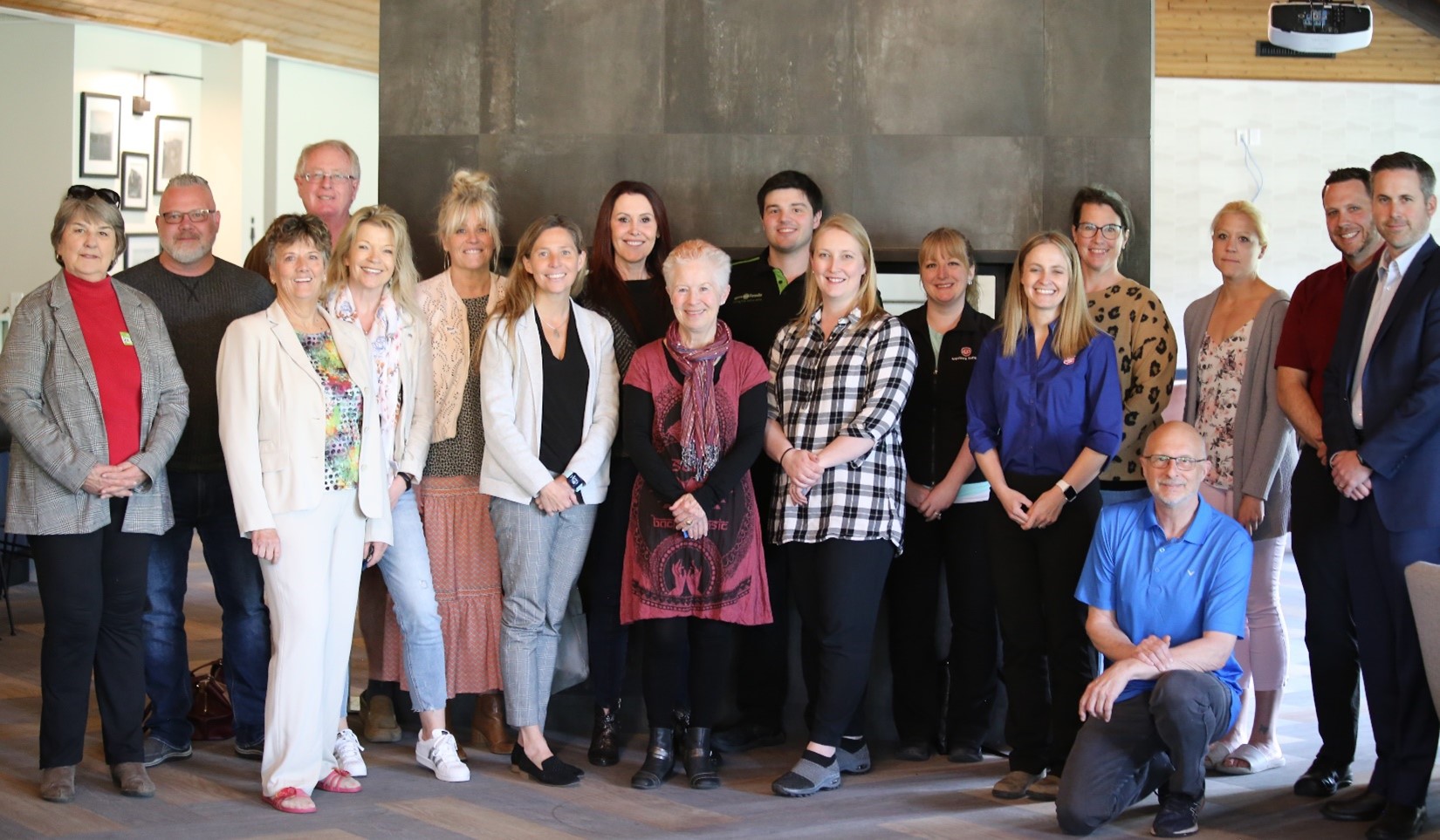 Starfish Pack Program partners, volunteers, and committee members at the 6th Anniversary of the program, April 2022
Who is involved in the Starfish Pack Program?
The Kalamalka Rotary Club started the Starfish Pack Program in Vernon in 2016. The club started with a pilot program of 20 packs, which was so successful that it led to the program running throughout the following school year. The program serves packs about 90 knapsacks each week, which benefits both students and their families.
Community partnerships are key to making this program successful. School District 22 staff identify possible students at risk and arrange for parental permission. Save On Foods provides food at cost and the Salvation Army transports the food to their warehouse and provides space for preparing the weekly knapsacks. Kalamalka Rotary pays the administration costs of the program and provides oversight.
We are grateful for the many individuals, businesses and families that help to support our program and cover the cost of the food. We are also appreciative of the many businesses and organizations that have fundraised on our behalf. It really does take a community to help address food insecurity in our communities.
The Kalamalka Starfish Society became a registered Charity in June of 2021 and has charitable tax status. As such, the Society can provide tax receipts to our donors and supporters.
"We are a family of five: 3 kids, 2 adults and are so humbled and grateful for your services. Sometimes the simplest things mean the most. Your thoughtfulness is a gift we will always treasure. Without this program my family would be lost."
Mary Jackson, Chair of the Kalamalka Starfish Society
"We are very thankful for the generous donations of businesses and individuals in the Greater Vernon area, to our partners School District 22, Salvation Army and Save On Foods and our Starfish volunteers. Without these partnerships we would not be able to help feed hungry children throughout the school year, "
"The program helps me to get my daughter to try foods she wouldn't normally. She'll try anything new if it comes in the backpack. She loves the fresh fruit, applesauce and the healthy cereal. Alphagetti is her favourite," says a parent of her daughter in the second grade. "She is proud she is responsible about remembering to pick up the pack and return it the following week."
"Teachers love the program because they know the kids in need in their classrooms will be fed on the weekend," says a school principal. "Parents are very appreciative. The program is helping us to build positive relationships with parents we were not able to reach before. When children are well fed their behaviour problems decrease right away and their ability to focus increases."
"We were made aware of Starfish Packs through our employees and quickly saw this as a program we needed to get behind. We are proud to support them and look forward to partnering with this exceptional group of people to support children and their families in our community," says Brad Thorlakson, Tolko's President and CEO. "At Tolko, we want our people to be proud, not only of the work we do, but of the difference we make in our communities. Working with the Starfish Pack not only aligns with Tolko's strong family values, it is something we can all be proud of each day."
"We are on a low income, so with three kids the program helps us a lot. My son is very excited to get the backpack on Fridays. He loves the healthy cereal with almonds and the granola bars. He unpacks it all himself, puts things away and helps to plan dinners for the family."
Champion Donor – Great West Equipment
"We support the Starfish Program as we want to support the community in areas that to us make a meaningful impact," says Rob Rintoul, Chief Financial Officer for Great West Equipment. "Youth is often our focus as there is great potential in every child. Giving them an opportunity to succeed with healthy food is something we felt fit our support objectives and is a great program we hope takes hold in many other communities."
"On weekends many of the children who rely on weekday breakfast and lunch programs go without eating until they return to school, so the Starfish Program helps to address this need."
How You Can Help

Starfish Committee Members and Volunteers, 2021
The Starfish Pack Program is named after the well-known parable of the Starfish, which illustrates the importance of helping even just one life in need.
The program has the support of many organizations and individuals in the Greater Vernon area, but there are many more children who need you help.  You can also be a part of helping a school student thrive!
The annual cost of the Starfish pack for one student is $600 for a school year.  This is approximately $17 per week to provide six meals in each weekend backpack.
There are a number of ways you can support the program:
Talk to family, friends and colleagues about the program

Volunteer your time or skills

Participate and support peer to peer fundraising on behalf of the Society or
How Does the Program Work
The Starfish Pack Program addresses food insecurity and hunger by providing a weekend backpack of easy to prepare meals for local school children in need.  The backpack contains food for two breakfasts, two lunches, and two dinners, as well as fruit and vegetables and a snack.  Most of the packs go to elementary school children.  We are pleased to have expanded the program to address the needs of teens at the Open Door Education Centre in Vernon and students at the Assisted Learning Program.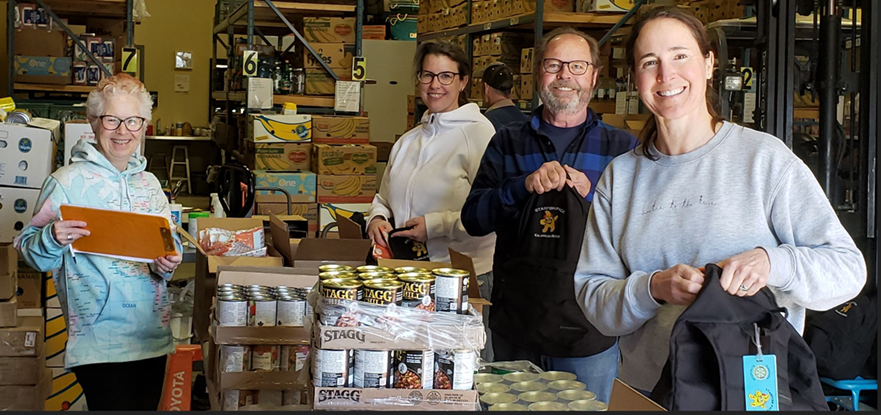 Packing Volunteers, 2022
With the advice of School District 22, elementary schools are selected for participation in the program. The schools then identify students who would benefit from a Starfish backpack and arrange appropriate permissions from their families.
Each week, students who are part of the program pick up their backpack at school and return the empty backpack the following week for refilling.  There is normally sufficient food to provide nourishment for other family members as well.
A typical knapsack includes non-perishable food, fruits, vegetables and snacks.  The menu is rotated on a three week basis and includes two breakfasts, two lunches and two dinners, as well as fruit, vegetables and snacks.
Kalamalka Rotarians and other community volunteers pick up and deliver knapsacks.  Another volunteer group fills the backpack each week at the Salvation Army warehouse with food provided at cost Save-On-Foods. It takes a community to fulfill the needs identified.
Thank you for helping us change the world… one child at a time!
$600 feeds one child for one school year.
Please make your cheque to Kalamalka Starfish Society.
Donations can be mailed to:
Kalamalka Starfish Society
PO Box 1465
Station Main
Vernon, BC    V1T 6N7
---
We would love to hear from you!
Ask us about our joining our mailing list, to keep up to date on all things Vernon Starfish!
We are so thankful for
Partners
Vernon Starfish Pack
latest news
FAQ
Q: Why is the program called Starfish?
A: Our program is named Starfish after the Parable of the Starfish, which characterizes our program. Changing childhood hunger starts with one child at a time.
Q: What type of food are in the backpacks?
A: We have a cycle of menus that include 2 breakfasts, 2 lunches, 2 dinners, and snacks. Each menu is child-friendly. An example of some of the items includes cereal, oatmeal, pasta and pasta sauce, canned meats, a variety of soups, chilli, peanut butter, canned vegetables, fresh fruit and vegetables, and snacks such as granola bars.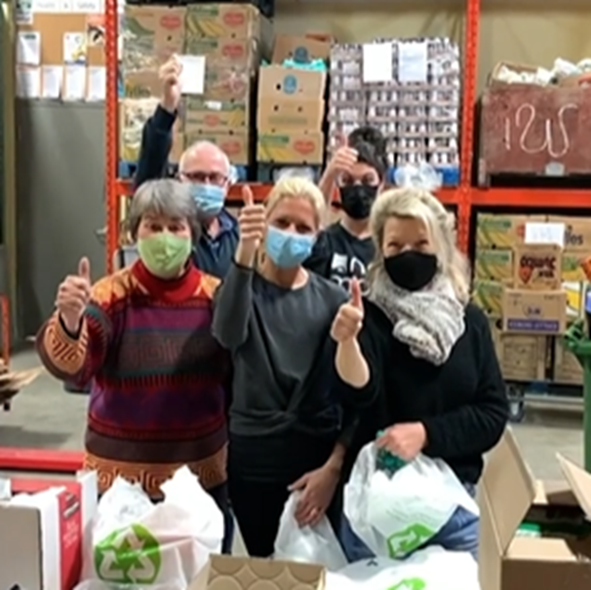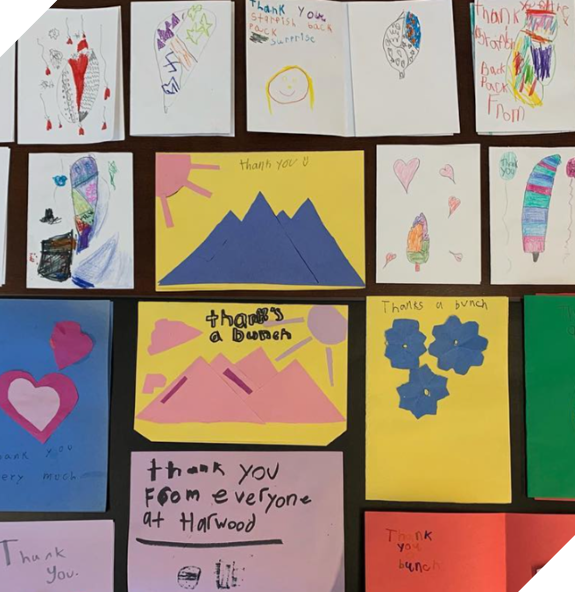 Q: How do you decide what goes in the backpacks?
A: A lot is considered when designing the Starfish menus. For example-providing food that is child friendly, easy to prepare, can fit into a backpack, does not require refrigeration, is light enough to be carried home by an elementary-aged student, is nutritious, and matches our budget of $18-$20 per backpack-per week. We are always looking to improve our menus.
Q: How do you decide which students get backpacks?
A: We rely on the school district, principals, teachers, and youth care workers to identify students who will benefit from our program. They let us know the number of children that are enrolled in the Starfish Pack program in each school. The children's identity is unknown to our volunteers to protect the child's privacy. If you are interested in your child receiving a backpack, please contact their school directly.
Q: Are children concerned about the logo on the backpack?
A: We rarely have this identified as a concern but we can provide backpacks on request with no logos showing.
Q: How much money does it cost to sponsor a child for a year?
A: It costs approximately $600 per student per school year, which is about $17 per week.
Q: Can I donate food or just money?
A: To ensure consistency, quality and safety, all the food is ordered each week from a local grocery store. Because of this, financial donations are the most beneficial.
Q: Is Starfish available to High School students?
A: As of now, Starfish has only expanded to include high schools in lower Mainland locations. We are exploring being able to expand to high schools in the future.
Q: What happens during the holidays (Ex. Christmas Break, Spring Break, etc.)
A: Before holidays or pro-d days the last backpack delivery before the break has extra food to try to help cover some of the time the students are out of school.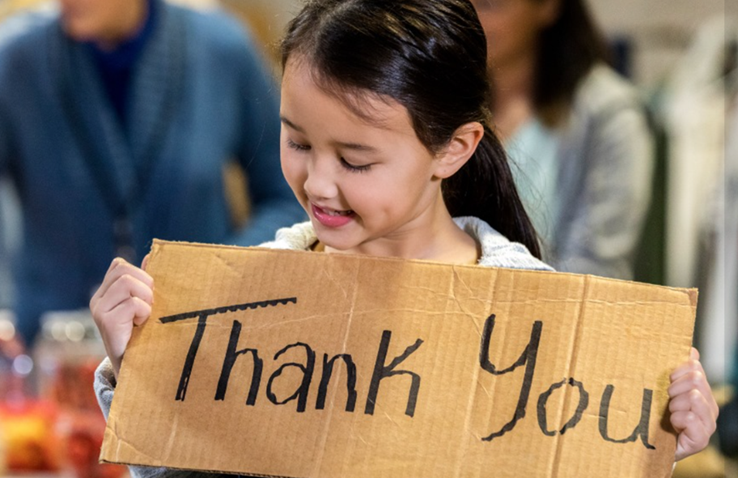 Q: What happens in the summer?
A: At this time, Summer Starfish is only offered at a few locations in BC.  As we grow in support, we hope we will be able to offer more summer options in the future.