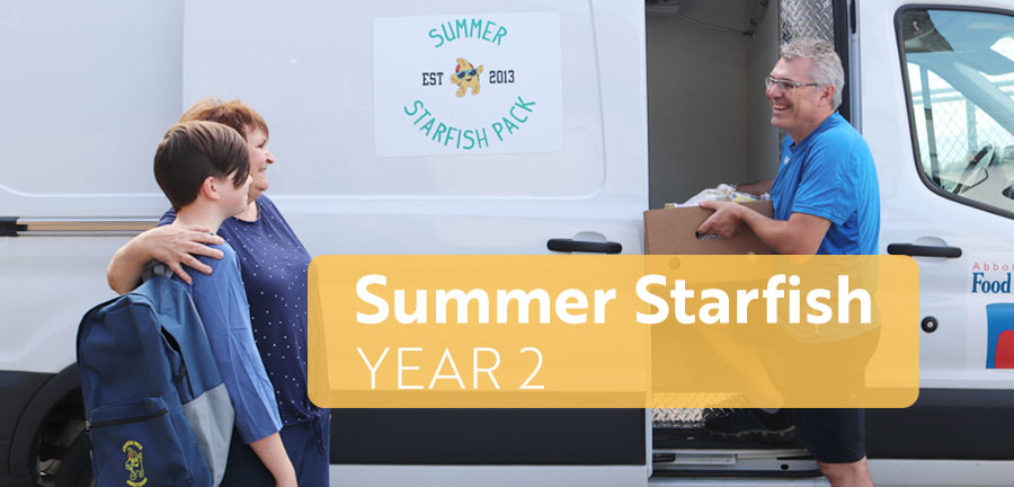 Abbotsford Summer Starfish Pack
When you think of your childhood, what memories come to mind when you hear the words Summer Holidays? Maybe you think of the excitement of being out of school and getting to play all day with your friends. Maybe you think of camping, family vacations, or attending different types of kid's camps. Sunshine, swimming, adventures, fun. But for some children and families in Abbotsford, instead of thinking about the fun summer they are going to have, they are thinking, "Are we going to have enough money to be able to afford groceries?" or "When am I going to have food to eat during the summer?"
Summer holidays are great, until you think about the fact that hundreds of children in our city are relying on school for breakfast programs, lunch programs, and the Starfish Pack Program on the weekends to be able to have full bellies each day. We believe that no child in Abbotsford should be going hungry. That's why Summer Starfish exists.
What is Summer Starfish?
During the summer, Starfish Pack operates every two weeks. That means, every two weeks students and their families pick up a bulked-up version of their typical school year Starfish Pack from one of the 7 pickup locations.
During the school year, Starfish Pack works with the same groups of dedicated volunteers who pack and deliver over 300 weekend backpacks to over 30 schools in the city of Abbotsford every week. But in the summer, we give our regular volunteers a much-needed break. Summer is a time to open the volunteer opportunity to local businesses and groups who come to our warehouse and pack all the bags for the deliveries. This summer we are especially thankful to the teams from TD Bank, Tradex, and Longboard Facades!
This has been our second year of delivering Starfish bags throughout the summer months. We have doubled the amount of backpacks being delivered! Last year we had 4 delivery dates of 33 bags to 4 locations. This year we have 5 delivery dates of over 70 bags to 7 locations!
This is only the beginning
We hope we can continue to grow the Summer Starfish Program and make the program accessible to as many children as possible in the years to come. We want kids in our city to be able to focus on being kids, and making good summer memories, instead of worrying about being hungry. Want to join in? Please send an email to Meghan.Kellington@archway.ca