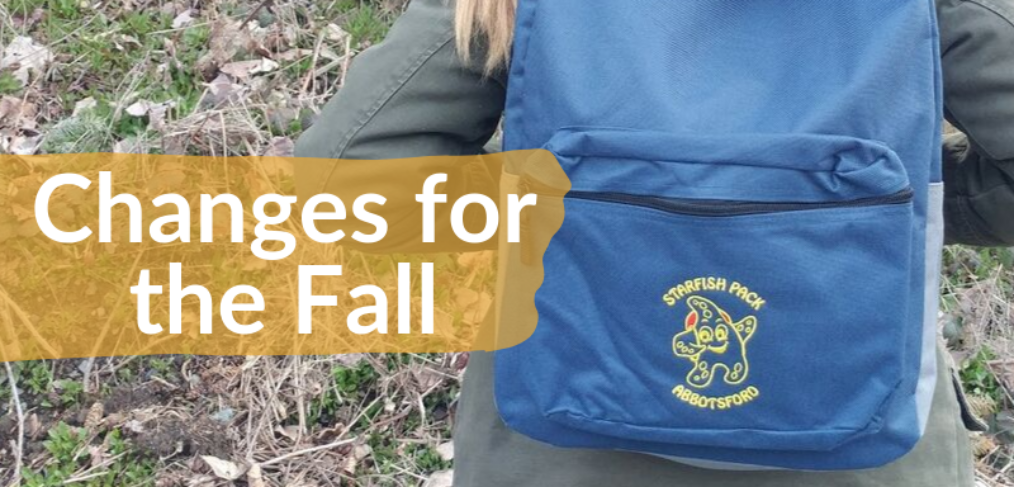 Changes for the Fall
(1 minute read)
By Meghan Kellington & Rebecca Thuro
The Starfish Pack Program has been buzzing lately, preparing for the new school year's deliveries to start. It's crazy to think that less than 10 years ago, Starfish was delivering 6 backpacks to one school in Abbotsford, and now over 1400 children across the province of British Columbia (and Whatcom County, WA) are receiving Starfish backpacks each weekend thanks to hundreds of volunteers and donors. 
In September, for the first time ever, the majority of the leaders from Starfish Locations throughout BC met together in Abbotsford. We celebrated the success of the program, problem solved, brainstormed ideas, and talked about the future of the program. The event was very encouraging, and we plan to meet again next year to continue to work together to improve the program and help feed more kids and their families! 
Many topics were discussed that day, but the most impacting update to share, was that together we decided it was time to raise the cost of the Starfish Packs from $525 to feed a child for the school year, to $575 per school year.
The feedback from most locations was that $525 was no longer enough to feed a child all school year. Starfish Packs hasn't increased the pack pricing since its beginning 7 years ago – an adjustment had to be made to keep the program sustainable, accommodate the rate of inflation and respond to the requests of the community. We hope the increase will allow us to respond to the need by providing a little more variety and include healthier food options. 
If you would be interested in donating towards feeding a child in your city on the weekends, please visit starfishpack.com/donate/. Together we can invest in the future of children living in our own neighborhoods.