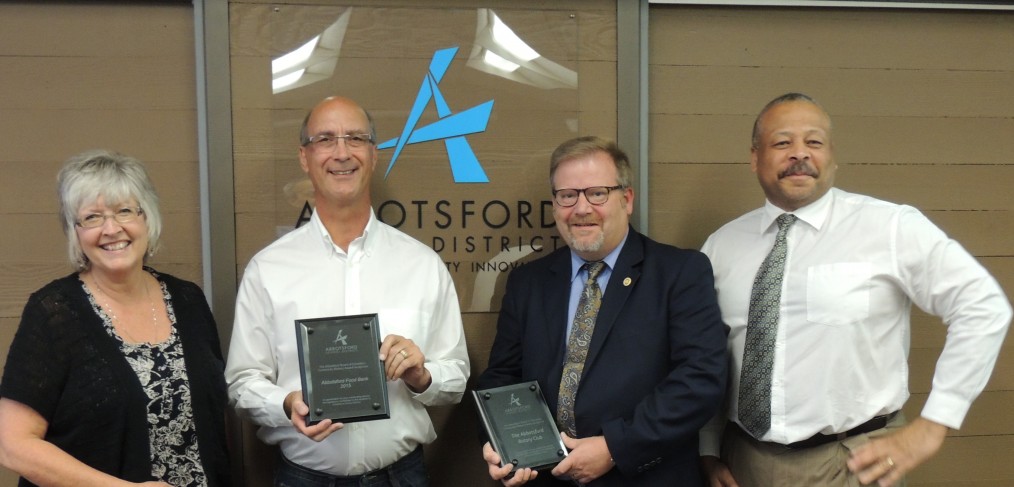 'Community Matters Award' for Starfish!
In photo: (left to right: Cindy Schafer (Board of Education Chair), Dave Murray (Abbotsford Food Bank Manager), Hugh Ellis (President of Abbotsford Rotary Club), Kevin Godden (Superintendent of School District 34)
The Abbotsford Rotary Club and Abbotsford Food Bank were honoured with the inaugural Community Matters Award on June 16 by the Abbotsford Board of Education at a public meeting.
The Board established the annual 'Community Matters Award' earlier this year to recognize community partners who have made a significant contribution to the lives of students in the Abbotsford School District. The award is intended to acknowledge an organization that has exceeded its service mandate to children.
"Community involvement in the Abbotsford School District has been a long and valued tradition," says Board of Education Chair Cindy Schafer. "Numerous organizations, such as this year's recipients, contribute resources and countless hours of volunteer service to enable our students to achieve success in school. This is a way for the Board of Education to more formally express its appreciation and acknowledge the support of those involved in such service to our students. This year we are delighted to honour the Abbotsford Rotary Club, Abbotsford Food Bank and Kiwanis Clubs of Abbotsford and Clearbrook."
The Rotary Club and Food Bank are being jointly recognized for the Starfish Back pack program (formerly "Blessings in a Backpack"), which provides weekly delivery of meals and snacks to over 260 students in 22 schools in Abbotsford School District. These backpacks provide a bridge of nutritional support over weekends that otherwise would not exist for the students and their families. Overseen jointly by the Abbotsford Food Bank and the Abbotsford Rotary Club, the program brings together donations and volunteers from the community to support children in Abbotsford schools. This community initiative includes over 40 sponsors, and nearly 100 community volunteers.