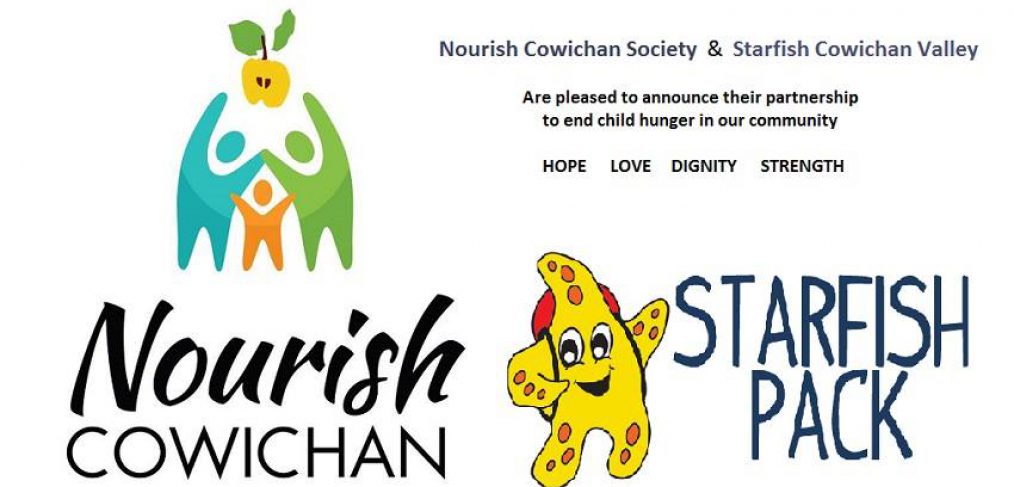 Cowichan Valley Starfish Joins Forces With Nourish Cowichan
Nourish Cowichan and Starfish Cowichan both have the same goal: to help students reach their full potential by making sure they don't go hungry.
Both groups are excited to announce that the Cowichan Valley Starfish Pack Program will now be operating through the Nourish Cowichan Society. These two non-profits have come together to strengthen and support each other in making sure that no child in the Cowichan Valley has to go without a meal.
Nourish Cowichan started as a pilot program in November last year. Since then, the nutritional breakfast program feeds an average of 160 students in four Cowichan Valley Schools. In March
2017, the Nourish Cowichan Society became a registered charitable organization. Starfish Cowichan began their work in March of this year and began providing students with enough food every Friday to get them through the weekend. The program is currently feeding 55 children at one Cowichan Valley school.
Quote from Principal of Khowhemun Elementary School, Mike Martin:
"Nourish Cowichan has been helping us to provide students with breakfasts in the morning, while Starfish Cowichan helps them take food home to their families over the weekend. Thanks to these two groups, we are able to provide support to families and children throughout the week. As these programs take flight, we are realizing there is a much greater need than we imagined. It's great to see these programs come together to tackle the issues of child hunger in our schools and our community."
Nourish Cowichan and the Cowichan Valley Starfish Pack Program intend on increasing their presence throughout the Cowichan Valley School District in the new school year, and look forward to continued community support!
For more information or to schedule an interview, contact:
Kasi Johnston, Communications Coordinator
Phone: 780-712-3281 Email: starfishcowichanvalley@gmail.com