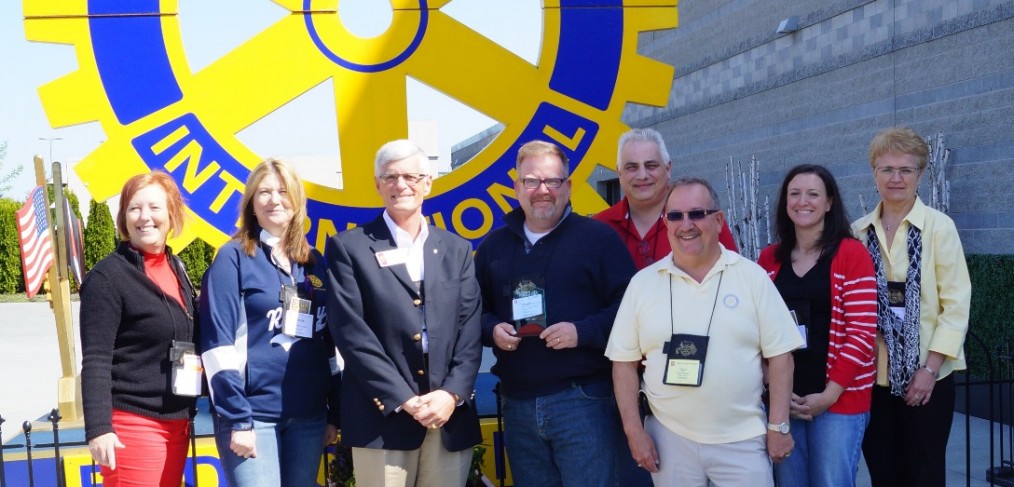 Second International Recognition
Photo credit: Bob Knight
Rotary District 5050 Governor Lyle Ryan presents the Outstanding Community Service Award to Abbotsford Rotary Club President Hugh Ellis and club members
The Starfish Pack Program, a joint project between the Abbotsford Food Bank and the Abbotsford Rotary Club, received its second international recognition over the past weekend.
During the annual Rotary 5050 District Conference, held in Tulalip, WA, the Starfish Pack program was presented with McLean Community Service Award, recognizing it as the most outstanding community service project in the Rotary 5050 District.  Rotary District 5050 covers 58 Rotary clubs located in both British Columbia and Washington State, in communities from Hope BC to Everett, WA.
Starfish Packs provides weekly backpacks containing six meals each weekend to over 260 elementary school students in 22 Abbotsford schools during the school year.  The Program also recently launched its first "Starfish Depot" which will provide food and other resources to school children and their families year round.  In its first two years of operation, the program has brought together over 40 local businesses, service clubs, faith groups and hundreds of individuals to fund and deliver the program.
Although the program was created locally, it has attracted significant attention and interest from outside the community as well.
In 2014, Starfish Packs received international financial support from Hershey's Company based in Pennsylvania.  The US based chocolate giant contributed to the program after its Abbotsford Brookside Foods Plant made a significant financial donation allowing Starfish Packs to add an entire school to the program.
Last month, the Aldergrove Rotary club launched its own Starfish Pack Program to serve students in need in that community.  Abbotsford Rotary Director of Community Service Bruce Beck says that Aldergrove represents the first of many other communities adopting the program.
"We're in discussions right now with groups in Chilliwack and Langley to expand the program to their communities in the fall.  We've had at least three additional BC communities approach us in the last month, asking us to help them bring Starfish Packs to their communities."
Abbotsford Rotary President Hugh Ellis said the award was both humbling and inspiring.  "Rotary clubs in BC and Washington do such amazing things in their local communities.  For the Abbotsford Rotary Club to be recognized as having the outstanding community service project in the entire region  is a significant honor to all our club members, as well as all our local donors and community partners.  The recognition the award brings is creating interest to bring Starfish Packs to kids in need in other communities.  It's inspiring to see how people rise to the challenge of feeding hungry kids."
Ellis wants to ensure Abbotsford doesn't lose sight of the need.  "We're feeding over 260 kids every weekend, which is amazing.  But there are still 150 additional kids going hungry every single weekend because we don't have the dollars or volunteers to include them in the program yet.  Being recognized with this recent award can't cause us to stop and celebrate, we need to use it as motivation to move forward until every child in Abbotsford who needs this program can get it."
Donations to the Starfish Program can be made online at by clicking here.