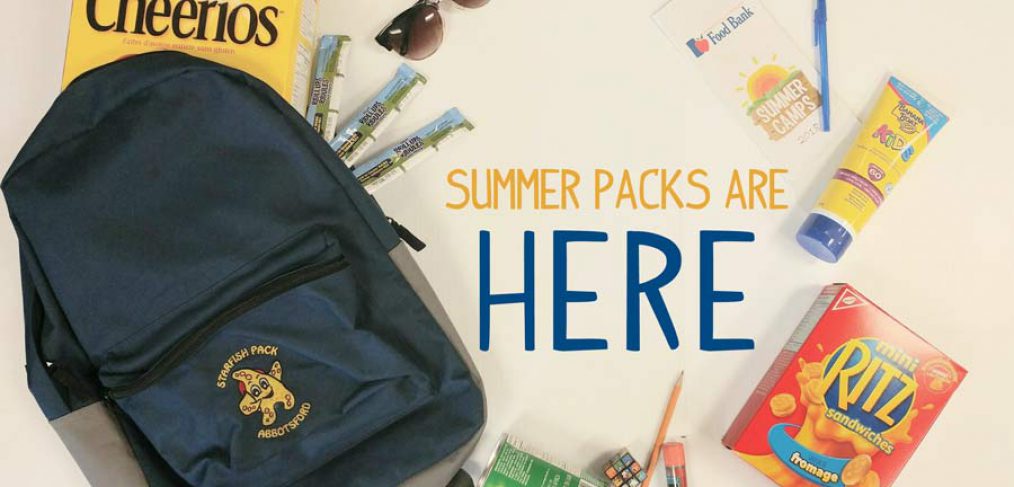 Abbotsford Starfish Packs Exciting Updates
(2.5-Minute Read)
By Lucas Driediger
Big Things are in the Works!
From extending Starfish through the summer, to increasing the amount of children we support, there is a lot going on in the world of Starfish! Whether you are eager to fight poverty, or just want a feel good story, this blog is for you.
Starfish Crash Course
Socially and academically, school can be a challenging place for our children and youth on the best of days. Hunger shouldn't be one of those challenges. Starfish Packs has been meeting this need with great success in our community through the provision of backpacks full of nutritious meals for students to take home over the weekend. Our goal is to ensure EVERY child has access to this provision. Ambitious? Absolutely! But with your support, we are making this goal a reality.
Each Thursday volunteers pack enough food to feed a family for the weekend. The backpacks full of food are delivered every Friday to each participating school for the remainder of the school year.
Starfish Pack began as a partnership between the Abbotsford Food Bank and the Abbotsford Rotary Club in 2013. Chilliwack launched their own program a year later and the program has expanded to 17 BC communities feeding almost 1,000 children in need every weekend during the school year.
You Heard Right! Starfish Extends Through Summer!
Starfish has always focused on providing backpacks through the school year, but we know hunger doesn't break for the holidays! We are excited to begin expanding Starfish Abbotsford in both size and scale. Starting THIS JULY, we will be delivering backpacks through the summer months to meet the needs of children in our community. We are excited to make this dream a reality as supporting children through the summer has been a dream for us since the beginning.
So what will it take to do this? To cover 2 summer months we expect the need of $60 per child. This provides each of them a backpack full of nutritious food every other week. Because many children rely on lunch programs throughout the school year, we believe the increased frequency of Starfish Backpacks over the summer is critical.
Not only are we extending through the summer, we are also hoping to expand our yearly distribution of packs from 230 to 300 students! That's 70 more children who will have access to healthy, nutritious food over the weekend.
Not Without Our Community
Starfish Packs wouldn't be possible without the support of our community. Most recently, Abbotsford Community Foundation (ACF) contributed $5000 through their Smart and Caring Community Grant. ACF has been leading the way in our community by supporting kids and youth initiatives like Starfish. It's partners like them, and people like you, who make Starfish Packs possible. Whether you volunteer packing backpacks, or contribute financially, the impact on the children in our community is huge. Thank you Abbotsford for taking care of those who can't yet help themselves!